Preview 2018 Volkswagen Tiguan: VW SUV bulks up to become a serious contender
June 18 2018,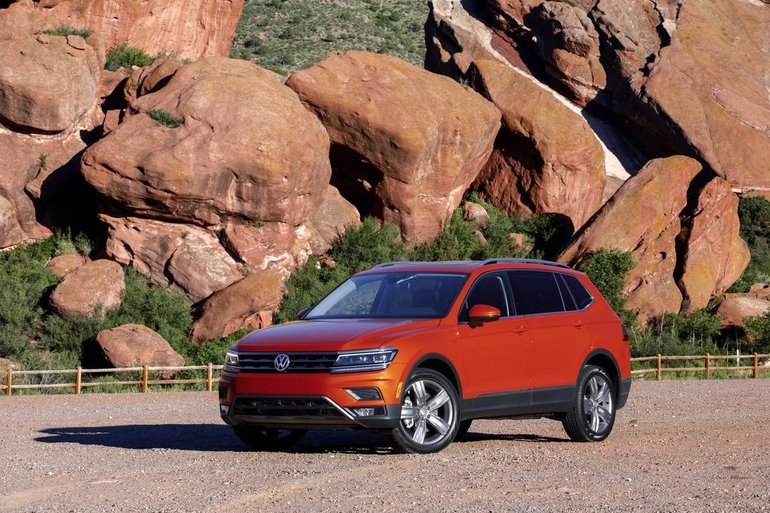 Photo: Volkswagen Canada
Fri., June 15, 2018
Source: https://www.thestar.com/autos/2018/06/15/preview-2018-volkswagen-tiguan-vw-suv-bulks-up-to-become-a-serious-contender.html
---
Saint-Alexis-des-Monts, Que.—Volkswagen has always tried to build logical cars.
OK, there's the occasional flight of fancy like the new Beetle. But VW's strength has traditionally been station wagons, the most logical form of car ever invented.
You occupy the footprint; you might as well occupy the air space and build an SUV. Volkswagen has taken half-hearted steps in this direction, but the Touareg was too expensive and the old Tiguan too small for most shoppers in this segment. Hence, the new 2018 Tiguan.
Pricing is roughly in the ballpark of similar-sized vehicles. The entry-level Trendline starts at $28,925 for the front-drive model, $31,175 with 4Motion four-wheel drive.
$34,325 gets you the Comfortline 4Motion, which will likely be the volume seller. It gains a bunch of stuff like fog lights, blind-spot warning, rain-sensing wipers, heated washer nozzles, automatic AirCon and heated front seats.
The range-topping Highline starts at $39,175, which brings 18-inch wheels, leather upholstery, LED adaptive headlights, a 360-degree camera system, a 400-watt Fender audio system, VW's digital cockpit system and a heated steering wheel.
Like just about everything VW makes these days, Tiguan is based on the MQB "platform." It isn't so much a platform as it is a set of components that are flexible enough to underpin just about everything VW makes, from the compact Golf right up to its biggest SUV, the Atlas.
The new Tiguan is pleasant looking, but hardly stylish — how stylish can any two-box car be? It is offered in some lovely bright colours, though. And it retains the usual VW high-quality interior trim.
It is longer than the old Tiguan by 268 millimetres overall and 185 in the critical wheelbase dimension. The extra wheelbase is put to good use — the cabin is markedly larger. It is nominally a five-seater; an optional third row adds two more seats, but they are for kiddies only.
There's loads of room for front-seat riders, and good accommodation even for two fairly tall people in the second row. There needs to be room under the floor for the drive shaft, so the middle rear seat is higher and thinner, hence harder.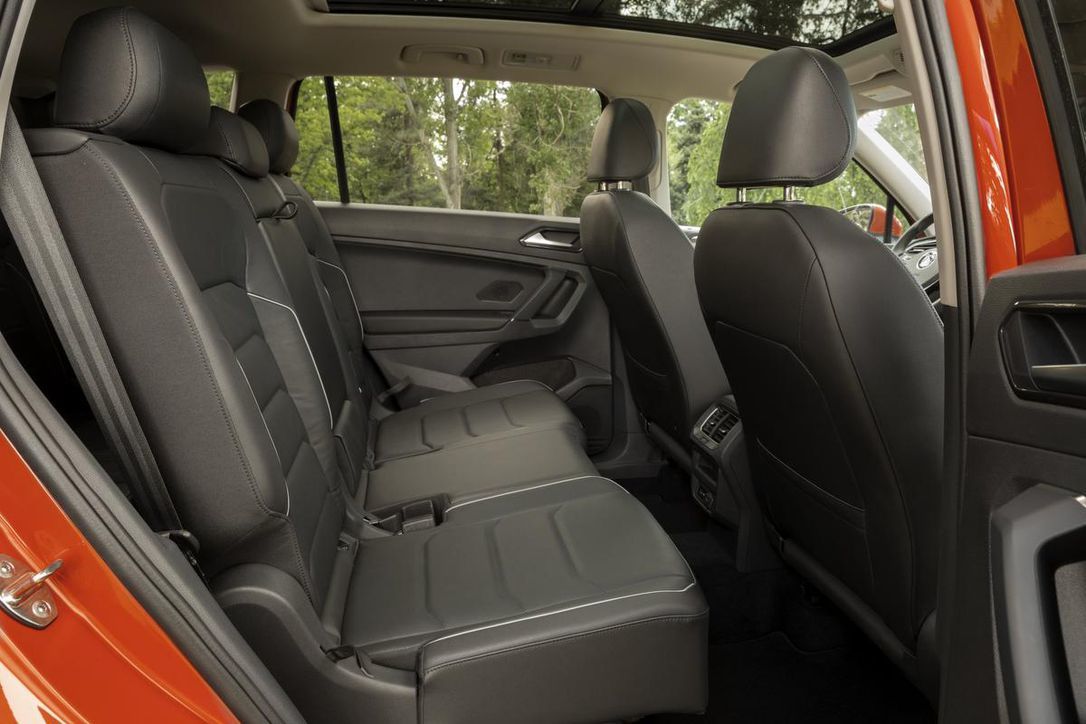 Photo: Volkswagen Canada
There are storage bins and cubbies everywhere. Your biggest problem might be remembering where you left all your stuff. Lots of places to plug in your electronic gubbins as well.
The biggest dimensional improvement is in cargo capacity, which at 1,064 litres with the rear seats up, 2,080 with the rear seats folded, is 11/2 times more than the former model. There's never really enough space for stuff, but Tiguan still scores well here.
Folding the second-row seats is dead simple. The split is 40/20/40, so lots of choice. Interestingly, if you opt for the third row of seats, you lose 130 litres of storage space with that row folded, 220 litres with both middle and third rows folded. The seats themselves must be bulky.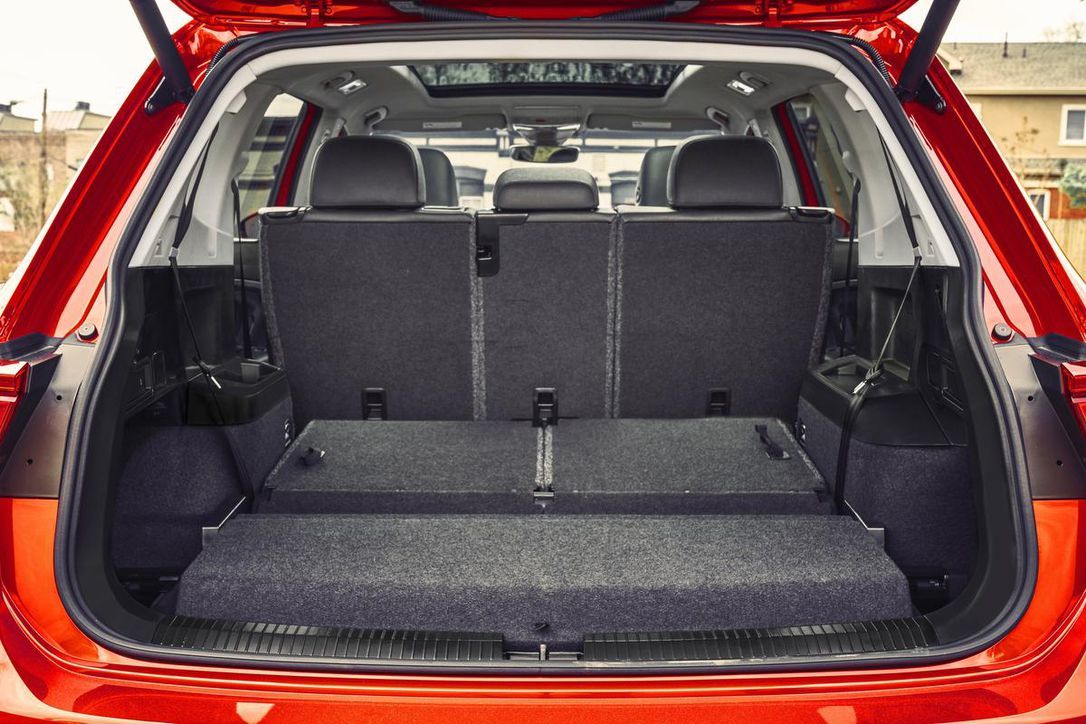 Photo: Volkswagen Canada
You will have to deal with a common and long-standing VW problem — the rear seat headrests are always in the way of your rearward vision.
During my test of the range-topping model, I had a brief encounter with the aforementioned digital cockpit system, a fully-electronic instrument panel. It offers a wide range of digital displays, which are bright, clear and reconfigurable. The other trims get centre screens, which are also well-designed.
The engine is the latest iteration of VW's well-known 2.0-litre turbo four. It has been tuned for torque rather than horsepower. The numbers are 184 horsepower and 221 lb.-ft. of torque, starting at a low 1,600 r.p.m. This puts Tiguan well down from the hot rod of the class, the Volvo XC40 (248/258 respectively).
The engine is mated to a new eight-speed Tiptronic transmission, which you can shift manually if you want to ignore the reason you bought an automatic in the first place. Accelerative progress is still reasonably satisfying, although the engine gets a bit noisy as revs rise.
As noted, front-wheel drive is standard on the Trendline and, if you put decent tires on it and not the awful all-seasons that come with the car, you would be fine.
But most Canadian customers will surely opt for the four-wheel-drive system my tester had, and which is standard on the top two trim levels. This essentially runs as front-wheel drive but, almost like magic, switches to four-wheel drive if it encounters anything remotely akin to wheel slippage.
Despite being a Mexico-built product, Tiguan attempted to retain VW's legendary Teutonic road manners. But this vehicle has seemingly been tuned for American tastes, so is more softly sprung that we've come to expect from VWs.
Ride quality is indeed exemplary, but handling, while competent, won't send the enthusiast driver into paroxysms of joy. If that's your wont, buy a Golf R.
Upscale Tiguans offer a drive-mode selector, giving you the choice of Normal, Sport and Eco modes, each selecting from various settings for parameters like engine, steering and chassis response. A fourth setting, Individual, allows you to tailor the drive to your preferences.
You can also dial up Snow or Off-Road settings should things get nasty in the neighbourhood. We did toss the Tiguan around on a frozen lake, and it progressed with ease and vigour.
Tiguan enters one of the most hotly-contested segments in the business, with no shortage of excellent candidates.
It probably leads the segment in interior space and high-techery, perhaps falling a shade behind something like the Mazda CX-5 in fun-to-driveability.
It at least puts VW smack into the game, were it should win its fair share of buyers.
---
Fast facts
Price: Trendline: front-wheel drive, $28,925, four-wheel drive, $31,175; Comfortline: $34,325; Highline: $39,175.
Engine: 2.0-litre four-cylinder turbocharged.
Power/torque: 184 hp/221 lb.-ft.
Fuel consumption, L/100 km: front-wheel drive: 10.6 city, 8.7 hwy.; four-wheel drive: 11.3 city, 8.8 hwy.
Competition: Dozens and dozens, notably Ford Escape, Honda CR-V, Mazda CX-5, Toyota RAV4.
What's best: Humongous interior, decent ride, upscale interior.
What's worst: Modest power, engine gets thrashy when pushed, can get pricey with the option list.
What's interesting: A strong candidate for most improved player of the year.