Dude, where's my bus? Texas man looking for Volkswagen camper he left in B.C. 12 years ago
May 09 2018, Colin Slark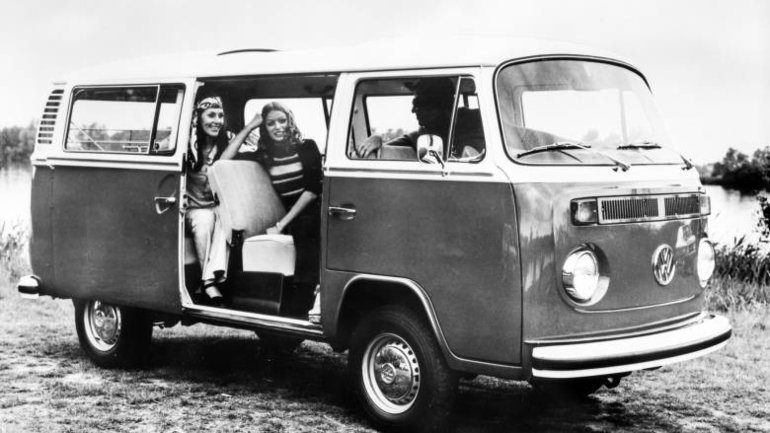 Budde has no photos of his original 1974 Volkswagen camper but said its custom powder-coated blue rims would make it stand out. (Volkswagen Canada)
A Texas man is hoping to reconnect with the bus he left in B.C. over a decade ago.
August Budde received the 1974 Volkswagen minibus as a 16th birthday gift from his father while he was living in Alaska in 2006.
He and a friend planned to use the vehicle to drive to Austin, Texas where Budde's mother lived.
However, they only got as far as Prince George, about 2,700 kilometres along the almost 7,000-kilometre journey.
"We end up driving into Prince George and the engine started stopping on us, seizing," said Budde.
"[The bus] would make it about a minute then stop. Then make it like half-a-minute and stop… We just parked it.'"
Bad luck in Prince George
Unfortunately, there wasn't a shop that could fix the van quickly enough within the pair's price range, so they went into a coffee shop to discuss options.
"We start looking for bus tickets ... We started talking about what we do with the bus. Can we find a parking lot? Do [we] think we can find a place to hold it for us?" Budde said. "And this girl overheard us."
The woman told Budde her grandfather was a mechanic and might be able to fix the bus up. They drafted a deal where he would sign over temporary ownership of the bus to be returned to his possession at a later date.
After spending the night with the woman's family, Budde and his friend were dropped off at a Greyhound station, with all their documents in a backpack.
Their string of bad luck continued when that went missing along the way and Budde was left without the woman's contact information or even her name.
"We'd talk about it over and over again. Her name was Andrea, we think. We couldn't remember her last name," said Budde.
"I do remember her saying though that she was going to go to college in Victoria,"
Bus search goes bust
Now living in Austin, Budde said he still thinks of the bus often, and he's made a few attempts at tracking it down — even trying to hire a private investigator.
More recently, he's turned to the internet, starting threads in Prince George-based forums asking if anyone has seen the bus.
It is distinctive — orange, with a Westfalia camper top and custom powder-coated blue rims and a white bumper.
"It wasn't perfect, but it was close enough for me," Budde said.
Budde said if the bus is in use, he doesn't necessarily need it back, although he does have dreams of taking it on the road once more. This time his wife would be riding shotgun.
"I see all these images of us travelling in it, and I'm like, 'oh, if only I hadn't left that bus,'" he said.